CASE STUDIES
> Birds in Lights a Customer Service Problem
Birds in Lights a Customer Service Problem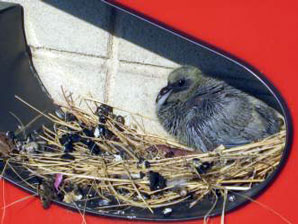 Installation Details
Property:Residential Home
Material used: Hot Foot Repellent Gel
Hot Foot Sterilize-It sanitizer
Find out more about Hot Foot Repellent Gel or contact us to learn how Hot Foot can help you get rid of pest birds for good.
Products used during installation
The familiar glow of store signs is common in most urban areas. Even small towns light up in the evening at gas stations, corner stores, and movie theaters. But for one major retail store, their sign attracted unwanted attention. Pigeons and sparrows were nesting in the letters of their signs - they seemed to particularly like curling up in the big letter 'A' in the name. The nests and roosting birds were an eyesore, making the sign look old, run-down, and neglected. Worse, the birds were making a mess on the sidewalk (and likely on the occasional customer coming in and out of the doors...), adding to the unattractiveness. The nesting material itself was a fire hazard as well.
Hot Foot had the solution. Once the fledglings had grown up and the adults had abandoned the nests, a work crew carefully removed the nests and cleaned the whole area with Sterilize-It. This was an important first step because birds will return to their nests and roosts, attracted by their own scents and nesting materials left behind.
Once the area was clean, installers applied Hot Foot Repellent Gel on the inside of the signs where the birds were nesting. This gel is totally harmless to birds, but gives them the sensation of sucking through mud, which is very unpleasant for the birds. Although invisible from street level, the Hot Foot Gel has kept birds away for three years and counting as of this writing. It is also non-flammable so that there is no risk of fire, and will not run even in extreme heat.
The birds are gone for good, and the owners have their store - and their customers - back!
Have problems of your own with nesting or roosting birds? You can get advice from us as well. Contact us by email or call us directly at (800) 533-8421, and we'll give you installation tips or help you find a Hot Foot installer in your area.