CASE STUDIES
> Swallow-Proofing Bridges In Southern California
Swallow-Proofing Bridges In Southern California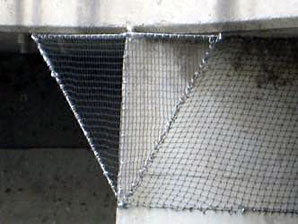 Installation Details
Property:Residential Home
Material used: Hot Foot InvisiNet 3/4" exclusion netting (custom-sized to contractor's specs)
Clipset Steel hardware
Find out more about Hot Foot InvisiNet Exclusion Netting or contact us to learn how Hot Foot can help you get rid of pest birds for good.
Products used during installation
California needed to upgrade a number of its bridges with an earthquake retrofit to meet updated bridge safety requirements. Simple enough, except that the bridges were home to many swallow nests.
Every year, swallows migrate thousands of miles from South America to as far north as Washington state, Maine, and into Canada. This particular group obviously prefer the sunnier climates, nesting in the shaded and protected underside of the county's bridges. Since swallows are protected as are all migratory birds, the county had no choice to wait until the birds flew off. This shortens the construction season considerably, in this case making it impossible to complete the complex earthquake retrofit in time.
That is until Hot Foot came into the picture. County engineers engaged Hot Foot to design an exclusion netting system that would keep the swallows away during nesting season, effectively lengthening the construction season.
The system had to be durable too, because the rivers often get swollen in the spring, rising up to bridge level. This would be disaster using some netting systems - debris and even the motion of the water itself could pull the netting away. Furthermore, close to the river banks there was clear evidence of the presence of rodents and rabbits which would chew at the netting making holes that the swallows could enter and leave. This would destroy the integrity of the installation.
Hot Foot, a bird deterrent specialist and not just a retailer, custom-designed a system using fabric reinforced with a steel mesh to secure it in place to keep swallows and debris out. Even at the edges where the net needed to be anchored close to the bank, metal mesh was stripped into the netting to prevent damage by gnawing wildlife.
The result: the swallows, unable to penetrate the exclusion netting, safely went elsewhere to build their homes while the county completed its upgrades.
Find out more about protecting bridges from swallows here [Link: Article - Keeping Swallows Away During Bridge Repairs] or contact Hot Foot to help you with materials planning, costing, and general tips on how to keep swallows away from your bridge and other infrastructure projects during the construction season - safely, effectively, and humanely.