CASE STUDIES
> ANOTHER CRUSH PAD EXCLUDES PEST BIRDS
ANOTHER CRUSH PAD EXCLUDES PEST BIRDS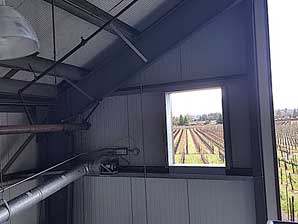 Installation Details
Property:Commercial
Material used: Hot Foot InvisiNet exclusion netting (custom-sized to contractor's specs)
Hot Foot customized strip and net doors
Hot Foot Repellent Gel
Hot Foot Sterilize-It sanitizer
Find out more about Hot Foot InvisiNet Exclusion Netting or contact us to learn how Hot Foot can help you get rid of pest birds for good.
Products used during installation
Wineries have always had a romantic appeal to them, but sometimes they can attract the wrong crowd - pigeons. At Mauritson Wines in Healdsburg, CA, a small flock of pigeons tried to take up residence in their crush pad, taking advantage of the structure's angled ceiling with light fittings, pipes, and conduits that gave the flock many nooks and crannies to call home.
Their arrival was totally unacceptable for this upscale winery, and Mauritson wanted to deal with the problem as quickly as possible. Over time, an unwanted flock will grow as new chicks are born, making the problems associated with them worse. Not only is there a risk of contamination during the seasonal crush itself, but the pad houses tanks and other production equipment immediately below the pigeons' roosting areas, which can lead to quite a mess!
Associate Winemaker Emma Kudritzki Hall called Hot Foot for a site inspection and to provide recommendations on how to safely get rid of these birds without harming them. We thought that perhaps the best way to reinforce our recommendations was to show her a similar bird exclusion project we did at another winery in Healdsburg two years ago. There, she could see firsthand exactly how we could protect the pad at Mauritson. Emma was impressed when we pointed out that even after all that time, there still weren't any signs of sags or holes in the netting where birds could easily slip in again. It looked as if we'd installed it yesterday.
Emma was convinced. We provided her with our recommendations for the Mauritson crush pad and got to work on her bird exclusion project.
First, the cleaning. Nesting and roosting activities can leave a big mess, especially from medium-sized birds such as pigeons. Worse, their droppings contain bacteria, parasites, and even viruses dangerous to humans. Fortunately, Mauritsons had been fastidious in their daily cleaning, so there was only upper-level nests deal with. Hot Foot completely cleaned and sanitized every inch of the superstructure where the birds had roosted, as well as the area below.
Next, the exclusion work itself. We enclosed the ceiling beams and one wall with our low-profile 3/4" Hot Foot exclusion netting. This netting system is superior to other similar netting because it doesn't stretch or pull as easily as others do, even on hot days. Installation is key, and our installers take the extra time needed to ensure the netting is securely fastened. We also made sure that every possible entryway is protected, not just from pigeons but from smaller birds such as finches who might try to move in once the pigeons were gone. The installers cut access panels where needed for maintenance on valves and other fittings.
For the support beams on the wall below the netting, we recommended applying Hot Foot Repellent Gel to ensure these birds, and any other future birds, did not remain anywhere within the footprint of the pad. Hot Foot Repellent Gel doesn't run or drip like most other gels do, and it is totally harmless. The pigeons simply get a sensation similar to slogging through deep mud with rubber boots - a sticky sucking feeling that they can't stand so they fly off to roost elsewhere.
The end result of this project is a maintenance-free netting and exclusion system that is essentially invisible from ground level, and is guaranteed for 10 years. The pigeons had nowhere left to roost or nest, so they moved on to greener pastures.
One other big plus for the fine folks at Mauritson: due to the height of the ceilings it was necessary to rent a high lift boom truck for the work. Their crew took advantage of that to do some regular maintenance on their light fittings. A nice little bonus on top of getting their crush pad back to its traditional spotless condition!